Terrifying Videos; Raging Fires – Paradise, California Nearly Gone!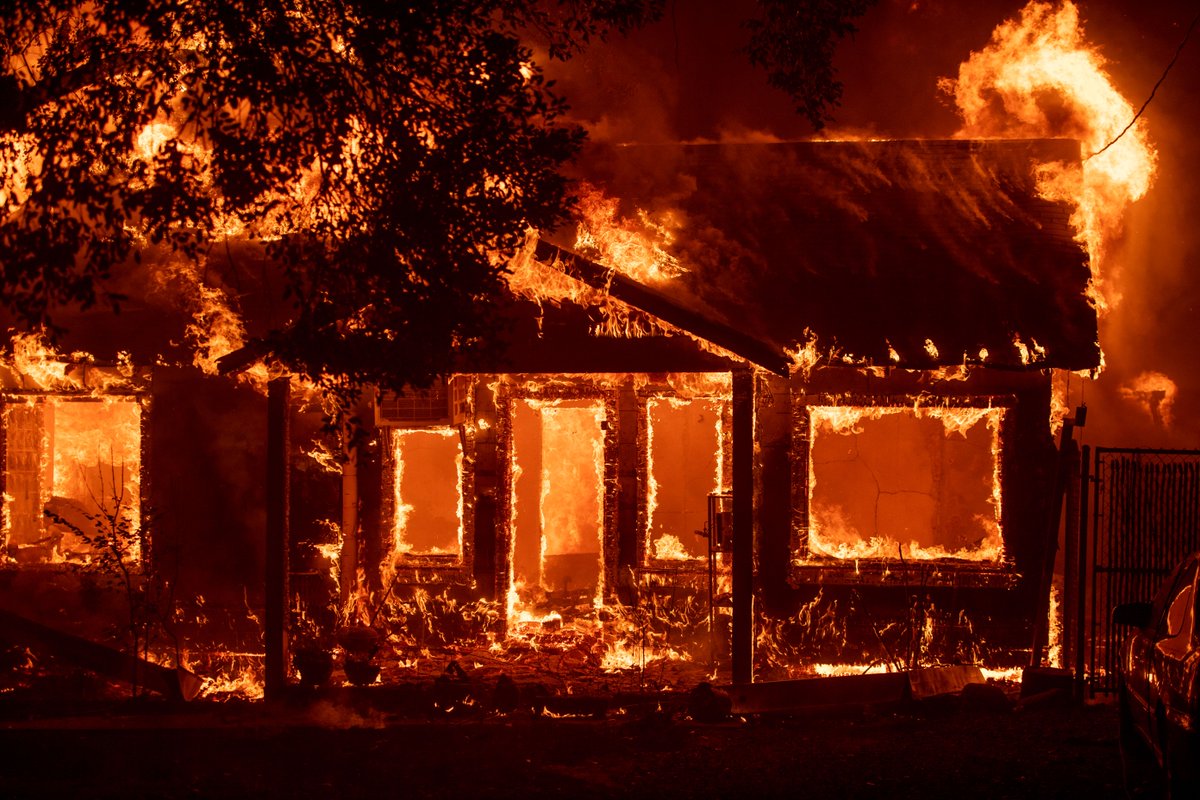 How fast is this fire moving? It's burning up the equivalent of 80 football fields per minute.
"The town is absolutely devastated…" Mayor of  Paradise, CA Jody Jones as she and a city councilman toured their devastated town. "Eighty percent of the homes are gone."
These abandoned and burned out cars shows you what a panic it must have been for residents trying to escape the Camp Fire. Unreal scenes in Paradise, CA, this morning. #CampFire pic.twitter.com/AhBuWzS0Tx

— Nick Valencia (@CNNValencia) November 9, 2018
Social media is blowing up with hundreds of reports of loved ones missing, not checked in fearing the confirmed number of deaths standing at 5 could "possibly" rise.
"It's the most intrinsic, valuable thing I have." John Mescall is bicycling to safety from the #campfire with just his cello in tow. pic.twitter.com/xFba9yHIbH

— Marlei Martinez (@MarleiMartinez) November 9, 2018
HELL ON EARTH: Terrifying video shows what one man faced as he drove through the #campfire in #buttecounty ..giant flames, flying embers & falling trees. Colton Percifield escaped the fast-moving fire, others may not have been so lucky. The town of #Paradise was devastated. pic.twitter.com/9xi3a2QBRY

— Alex Savidge (@AlexSavidgeKTVU) November 9, 2018
"Oh my God.. embers are going in the car… I can't hardly breathe…" Coming up on @NBCNightlyNews, video of one family's terrifying escape from Paradise, California as flames close in. #CampFire #ButteCounty pic.twitter.com/YrIz6ptJ3F

— Gadi Schwartz (@GadiNBC) November 8, 2018
WATCH: Father sings to 3-year-old daughter to keep her calm as they drive through the devastating Camp Fire. https://t.co/CF8OrNG8yM@GadiNBC and @Miguelnbc will have the latest on the #CaliforniaFires tonight on NBC Nightly News with Lester Holt. pic.twitter.com/1eTdP0S1s0

— NBC Nightly News with Lester Holt (@NBCNightlyNews) November 9, 2018
#BREAKING Fire officials now say #Campfire is now +18,000 acres with zero containment. For perspective, this video was taken by the Foulkrod family at around 10 IN THE MORNING. Toward the end of the escape you can finally see the difference between darkness & day. pic.twitter.com/ghknojRxNi

— Gadi Schwartz (@GadiNBC) November 8, 2018
Just a little visual reminder of what our neighbors are facing with the #CampFire… #CampFireJamesWoods pic.twitter.com/aasjJDD6Ia

— James Woods (@RealJamesWoods) November 9, 2018
#DEVELOPING From a safe distance…just shot this video of a #FireDevil at the #Campfire near #Paradise. #abc7now @LiveDoppler7 pic.twitter.com/jS5WBsvcnV

— Laura Anthony (@LauraAnthony7) November 9, 2018